Willowstar
is a long furred seal point siamese she-cat with blue eyes
History
Willowstar formerly Willowpath, had been the most loyal she-cat in CloudClan, her best friend Echopelt had died giving birth to her three kits Ravenkit, Dark-kit, and Nightkit, soon her sons died and Darkpaw was renamed Deadmist for her hollow soul, Willowpath never trusted her at all and that boosted her fierce protective passion. Willowstar was so happy that she and Barkclaw would have kits together soon, right before Willowstar had her kits Deadmist killed Barkclaw, but it was unreasonable to not banish her, the leader before her had mercy, Cedarstar shouldn't have given her another chance though, soon over time Willowstar had seen how ruthless Deadmist was in battle, not even hesitating to kill cats, she just did it, soon her daughter Dusk-kit grew into a young warrior Duskblossom and she holds great expectations for her daughter.
Hayleap and Kestrelwhisker had been her sisters sons, Goldenpetal was a great warrior until she'd been killed by a fox. Willowstar treats both of them with respect and knows they're both loyal toms, medicine cat or not. They'd never disrespect their clan and clanmates, but she might doubt that because her faithful medicine cat Vixenleap said Deadmist hadn't attacked her. But Hayleap might have thought that and she respects his loyalty, even though it. Might go past expectations a little bit too much.
Personality
A head-strong she-cat who will do anything for the cats she loves and trusts, usually she'd be watching her clan and always talk with her warriors as if they'd been her own kin. Willowstar is fiercely loyal to her clan and if there are any problems, she'd solve them the hard way or the easy way. She doesn't do much exiling and never feels good about them, but it depends on the cat shes exiling. She is more loyal to her kin but she treats everyone the same.
Kin
Mother
Darklily: Deceased
Father
Ashpatch: Deceased
Sister
Goldenpetal: Deceased
Mate
Barkclaw: Deceased
Daughter
Duskblossom: Living
Nephews
Hayleap: Living
Kestrelwhisker: Living
Step-Daughter
Deadmist: Deceased
Step-Sons
Ravenpaw: Deceased
Nightpaw: Deceased
Realtionships
Barkclaw
Wip
Wip
Wip
wip
Wip
Wip
Wip
Gallery
life
Other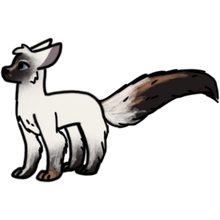 Trivia
Community content is available under
CC-BY-SA
unless otherwise noted.