SplashClan is owned by Echo.
Here is the link to the Roleplay thread and here is the link to the Roleplay page.
Description 
SplashClan is a Clan of cats who are very talented at swimming and hunting fish. They often use the river to their advantage, and the waterfall near their home offers protection from enemies (they hide the kits and elders behind it).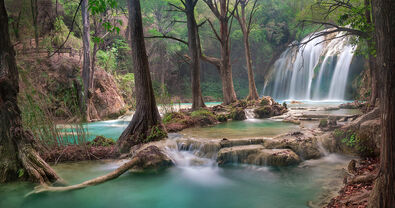 Territory
SplashClan's territory is near a large river with a medium-sized waterfall. They live on the riverbank and often hunt in the shallows of the river. They have a small, secret cave behind the waterfall that they use to hide the kits and elders when their camp is under attack. 
History
SplashClan was founded by a brave warrior named Splashbreeze, who fled his Clan after the leader was killed by a fox. He invited a few loners and rogues to join his group, and they became the first warriors of SplashClan. Splashbreeze became Splashstar, and he appointed his mate, Violeteye, as deputy.
More coming soon
Allegiances
Leader
Adderstar - brown tabby tom with green eyes (YellowfangWC)
Deputy
Larkflight - dark grey tom with yellow eyes (EchoLover123)
Medicine cat
Feathernose - dark silver she-cat with green eyes (Nightmare That Cloaks All Reason)
Warriors
Foxpelt - russet tom (EchoLover123)
Squirrelpool - white she-cat with golden eyes and red patches (Willowleafwing)
Mothleaf - golden tortoiseshell she-cat with blue eyes, looking for a mate (Willowleafwing)
Apprentices
Starrypaw - cream she-cat (Nightmare That Cloaks All Reason)
Mudpaw - small brown and white tom (Echoheart123)
Queens
Bluemist - grey she-cat with green eyes and black paws, ears, and a tail tip (YellowfangWC)
Elders
None currently
Roleplay Form
Please fill out this form for SplashClan OCs, and post it in the comments below. This form is for demonstration purposes only, so please do not write your OCs info in it.
**********
Name:
Gender:
Rank:
Description:
Age:
Other:
Community content is available under
CC-BY-SA
unless otherwise noted.