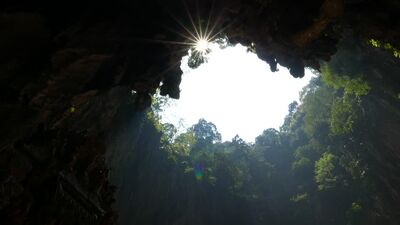 Roleplay is OPEN!DawnClan 
is a northern clan known for their extremely close ties to StarClan. Their rankings are a little different because of their ancestral connection, which will be mentioned later on. However, because of their strong admiration for their ancestors, DawnClan members tend to have a "lax" behavior towards the warrior code, although the shaman and medicine cat follow their own codes very, very strictly. Most cats are tied closely to StarClan, but some are trained in the Dark Forest. If a cat is discovered training with the Dark Forest...they are often killed. Please, don't have a bunch of cats being trained by the Dark Forest! Naturally, these StarClan-followers are intense rivals with
DarkClan
, those who worship the Dark Forest. The clan's roots are ancient, sometimes said to have existed far beyond the other clans, but it later disbanded. It was recently re-established by
Wolfstar
, before
Coalstar
took over upon the tom's death.
Camp
DawnClan's camp is located underneath ground, in the safety of a dark cavern. It has one main entrance leading to the forest outside, covered by a thick mesh of undergrowth and bracken to keep it safe from outsiders. High up above on the cave's root is a skyligh, a gaping hole that allows both moonlight and sunlight to brighten up camp at all times. Beneath it is a great pool known as the "Starpool", where some cats can hear their ancestors voices at night, or even speak with StarClan. Dens are located on "shelves" of the cave walls, so cats essentially sleep in the walls. A small stream is where the cats drink, and this feeds the Starpool. The leader holds ceremonies on a single, giant boulder in the center of the Starpool. The leader sits on said rock while the clan gathers around the edges of the Starpool to hear him or her speak.
Borders
While camp is safely hidden by thick bracken and greenery, the surrounding land is filled with plentiful streams and tall, dark trees. For the most part, the territory is densely packed by plants and lean trees that block out most sunlight, save for the great hole in the roof of DawnClan's cave that allows light to trickle inside.
Ranks
DawnClan cats have unique ranks, as will be mentioned and explained here.
Shaman
The shaman, not the medicine cat, is the cat that speaks directly with StarClan. They come from a long line of shamans (related, not through birth), and follow a very special and strict code of their own. Warriors are banned from speaking to the shaman directly. Only the leader and medicine cat may speak with the shaman, as they are considered sacred. There is only one shaman at a time. A shaman's successor is picked by StarClan, or the shaman himself. Shamans are almost always related to one and other, usually cousins or siblings, but never children of the shaman because that's banned. In an essence, they have more control than the leader, as they have StarClan's will to back them up. If the shaman says that the deputy cannot take over as leader, they can't take over as leader. Their word is StarClan's word- to disobey it is to disobey the ancestors.
The Shaman's Code:
-Shamans are not to take up a mate nor have kits.
-Shamans may not fight.
-Only the leader and medicine cat may speak with the shaman.
-Shamans are picked by their predecessors or StarClan directly.
-The shaman interprets messages- they do not order warriors around.
Medicine Cat
DawnClan's medicine cat is not like the typical medicine cat. They follow the medicine cat code very strictly- however, medicine cats do not interpret messages. The medicine cat only manages the herbs and heals the clan, they do not speak with StarClan. Only one at a time.
Advisers
There are two total advisers: one who manages the tunnelers, and one who manages the warriors underneath the deputy and leader. The advisers help oversee projects carried out by their group, and help with training cats for these special roles. Their duty is also to act as a mediator of their group, by ending whatever drama might swell up.
Tunnelers
Tunnelers, as their names might suggest, are responsible for digging and patrolling tunnels of DawnClan. These tunnels are used to surprise any potential enemies and hunt for prey. Warriors are forbidden to enter the tunnels, as they are too dangerous. There are a total of five tunnelers at a time.
Apprentices
Apprentices are usually trained to either be a warrior, medicine cat, or tunneler. Apprentices have two mentors. One mentor is a physical, living cat, and the other is a StarClan or Dark Forest member. Shamans do NOT take up apprentices!!
Warriors
Like most warriors, warriors of DawnClan carry out hunting duties and patrols, except they never enter the tunnels because it is far too dangerous for an untrained cat.
Leader:
Coalstar - big black smoke tom. (Whiskers)
Deputy:
Lilybreeze - bengal she-cat. (Hawk)
Shaman:
Foggypool - silver shaded she-cat with blue eyes. (Whiskers)
Medicine Cat:
Ripplepool - lynx point tom. (Willow)

Apprentice: Tawnypaw - Tortoiseshell-and-white tom with green eyes. (Hawk)
Tunneler Adviser:
Open x1
Warrior Adviser:
Owltalon - chocolate tortoiseshell she-cat. (Willow)
Warriors:
Tunnelers:
Lynxleap - tall she-cat with striped limbs. (Willow)
Foxwhisker - russet-and-white tom. (Night)
Spiceflame - cinnamon tortoiseshell she-cat. (Whiskers)
Open x2
Apprentices:
Brightpaw - golden tabby she-cat. (Badbreak)
Queens & Kits:
Open
Elders:
Open
Community content is available under
CC-BY-SA
unless otherwise noted.